Larry's will install your aftermarket trailer hitches, bike carriers, and roof racks in a jiffy.
Don't know which hitch or roof rack is right for your vehicle? Ask Gary or Mark to order and install the right part for your car or truck. They carry a full line of bicycle carriers and specialty rigs as well as standard hitches and all sizes of balls and connector rigs.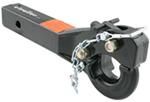 Larry's can even find and install military and specialty hitches too.