Automotive Oil, Fluid, Filter Replacement in Miami Beach
Honesty & cutting-edge 3rd generation auto service technology.
Why is that fluid low light on?
Larry's has the right oil and transmission fluids for your car…
Free 45 point safety inspection with every complete fluid replacement!
Is you car ACCEPTABLE BORDERLINE or...............................CRITICAL!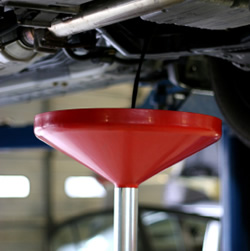 9 out of 10 transmission failures are due to transmission fluid overheating. Changing power steering fluid will prolong the life of more expensive power steering components. Gasoline combustion results in engine deposits that rob your car of fuel mileage and performance. Over 20% of cars have contaminated brake fluid that contained 5 or more percent water that can cause catastrophic brake failure. Old dirty engine oil can lead to massive engine repairs. Engine overheating due to old contaminated coolant can severely damage your engine and head gasket in minutes?
We check things like...
Stabilizer Bar & Links
Shock Absorbers/Struts
COOLING SYSTEM
Coolant Hoses
Water Pump
Radiator/Leaks
EXHAUST SYSTEM
Mounting/Hangers
Glass/Mirrors
Noise
Vibration
Blower Motors/Speeds
Clutch Free Play
BELTS
Driveability
Hesitation
Warning lights
ENGINE
Fuel Filter
Air Filter
Cabin Filter
Noise
Oil Leaks
TRANSMISSION
Fluid Level/Condition
Noise/Leaks
DRIVE AXLESITIRES
CV Boots/Joints
Alignment/Rotation
Front Differential Fluid Condition
Rear Differential Fluid Condition Transfer Case/Fluid Condition